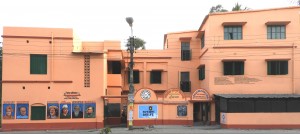 Kodalia Girls' High School is a Bengali medium Government sponsored High School , located  at Kodalia, under Rajpur -Sonarpur Municipality,Ward No -20, P. S-Sonarpur,District-South 24 Parganas,W.B,India.Kodalia is a famous place for the ancestral house of great Netaji Subhas Chandra Bose.
School-founded-1916 (as primary section),upgraded as Secondary on-1969.
No.of students-PRIMARY-380,
SECONDARY-742.